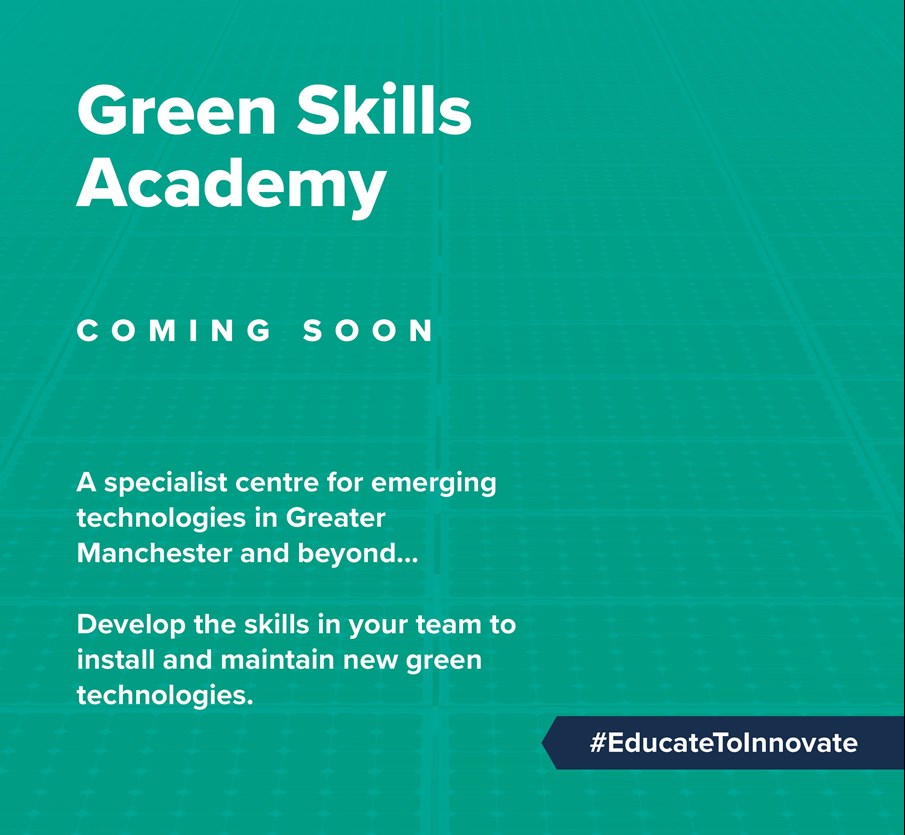 The Growth Company, Education & Skills is delighted to launch the Green Skills Academy in Trafford Park, as part of a pan-northern effort to lead the UK's transition to Net Zero.
The first of its kind in the North, The Green Skills Academy will play a critical role in Greater Manchester's ambitions to reach Net Zero carbon as early as 2038 and UK-wide by 2050.
The Academy will house the latest green technology equipment in order for businesses and individuals to gain the knowledge and skills which will place Greater Manchester at the forefront of emerging technologies.
Whether you are a business looking to prepare your workforce for the opportunities and challenges presented by the global transition to a carbon neutral economy, or you're looking for an apprenticeship in this sector, the Green Skills Academy is your one-stop campus to support the community of Manchester to become a carbon zero city.
We have a range of exciting courses specialising in emerging green technologies. From Solar Photovoltaic to Wind Turbine technology, support a greener way to develop careers.
This Green Technology department will deliver courses such as:
Ground and Air Source Heat Pumps
Solar Photovoltaic (solar panels)
Wind turbine technology
18th

Edition Inspection and Testing (Portable Appliance Testing)
EnviroHeat Electric Radiator
Electric Hybrid Vehicle (EV Awareness)
AM2 Test Centre
All of these technologies and more will shortly be delivered in our new Green Skill Academy all of which is just the beginning of our transition into becoming a sustainable forward-thinking centre.