GC Education & Skills will sponsor Unity Radio's weekly New Talent Show hosted by learners who have graduated from the New Talent Academy and will be taking over Unity Radio's New Talent Academy show from July until March 2023. We will be involved in broadcasting, supporting and offering guidance about local employment, training and education opportunities for young people across Greater Manchester.
Unity Radio attracts approximately 30,000 listeners per week in Greater Manchester on 92.8FM, DAB and online – and its New Talent Academy is helping young people aged 15-18 who want to get into the industry.
"The NTA is set up to give learners a real life learning experience in the media industry as well as gaining the relevant qualifications to help kickstart their media career," explains Unity's James Bayat.
Renée Bell, Internal Communications Officer, was recently invited onto the show to talk about apprenticeships from a 'learner' perspective. "I thoroughly enjoyed my time hosting a show on Unity Radio, a definite highlight of my career here at the Growth Company," she said. "It was a really great opportunity for me to collaborate on such an interesting and unconventional piece of content for our audiences, as well as network and explore other channels to promote our offer.
View our schedule below and tune into the New Talent Show every Wednesday 1-4pm on Unity Radio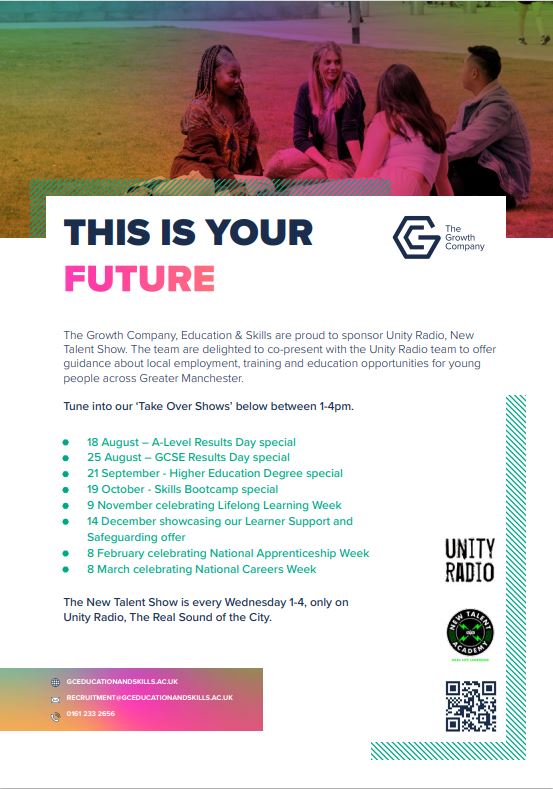 Listen to our past recordings on Unity Radio
Listen below to hear GC staff and learners talk to The New Talent Academy at Unity Radio about our offer and why we think you should join us and kickstart your future.